BookWright has several features that will improve your book-making experience and we're always making updates. To check for updates, all you need to do is restart the BookWright application and our auto-update feature will do the rest!
To name a few, we have added tons more page layout options to BookWright. For Photo Books, Trade Books, and Magazines, we now have over 125 layouts per trim size to help you design the perfect book for you. We also have multiple Cover Layouts per cover type. Whether it's a Dust Jacket, ImageWrap or Softcover book, there are several options to get you going in the right direction. And if you are someone who has used BookSmart in the past and are looking to upgrade to BookWright, you will find many of the same layouts that you are used to.
For inspiration, check out our blog for layout design tips and ideas.
Want to find all the latest layouts? Navigate to the cover or pages section of your book and select the Layouts tab. Easy as that!

We actively interview and solicit feedback from our community of book-makers. By doing so, we are able to make updates to the tool that our customers want. Enter the ability rotate your images and text to any angle that you want in BookWright. You'll no longer be restricted to 90-degree rotations. Like what you see? Stay tuned! We will be releasing more community requested features like this in the near future!
As part of our support for rotating your content, we now allow users to place images and text off of the book page. This will allow you to rotate and place content in such a way that doesn't prevent you from placing it too far from the edge of the page.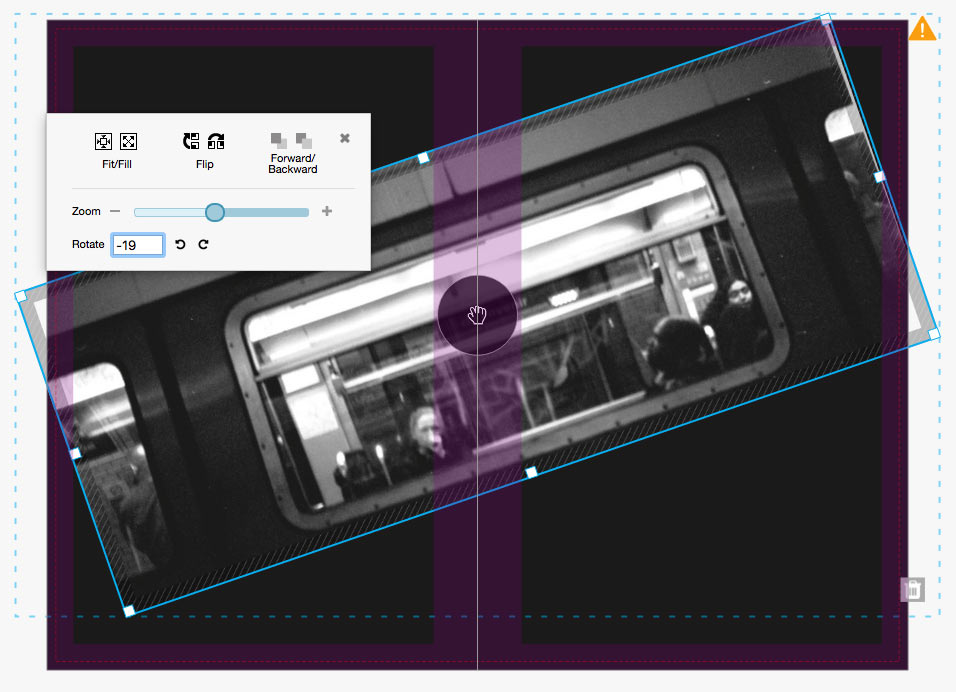 In addition, this will allow you to ensure that your images go all the way to the edge of the page for full bleed designs. When books are printed the outside content is trimmed off of your book, hanging an image off the page will ensure that your book will not end up with a white line on the edge of your page.
Any new features you've been wanting to see in BookWright? Tell us in the comments below. We'd love to hear from you!
Are you ready to make a photo book? Download BookWright to get started today!